Cuenca overview
Cuenca soft-landing
Cuenca Chillout
Canyoning in Cuenca
Rock Climbing in CoJitambo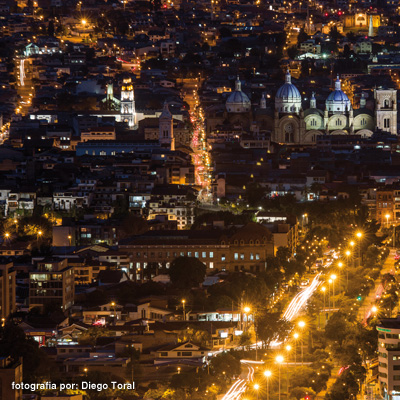 If you are thinking of relocating in Cuenca or simply visiting the city from a tourist perspective, this 360° overview of the city will give you a very comprehensive idea of the different possibilities. Westward cooler, eastward warmer. Close to downtown, downtown itself or outskirts, pets, backyard, condo. There are myriad of possibilities, what suits you? Find it out by yourself, without the bias of a realtor. We will give you a remarkable introduction to Cuenca.
Duration:4 hours
2 guests minimum
Price per person: 30 USD
English speaking facilitator and private transportation provided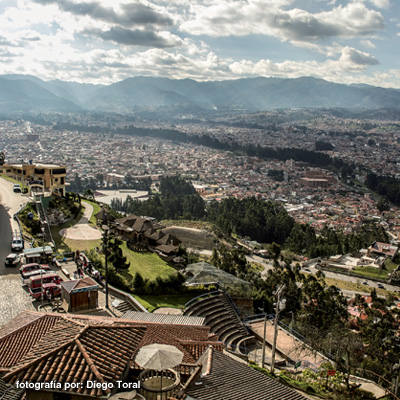 New on town, looking for pharmacies, supermarkets, immigration, banks, getting your phone to work. We will drive you around and help you to get things working from day one, for only 15 USD per hour. For 1 to 4 people
English speaking facilitator and private transportation provided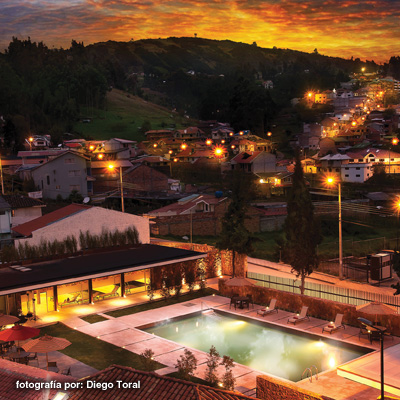 After all the stress of relocating, you really need some time off to explore the Andes around Cuenca.
We offer half-day excursions to several remarkable locations around Cuenca. Waterfalls, lakes, cloud forest, andean villages, handcraft workshops. What would you like to see? Let's work something out.
Cajas National Park

Water fall

Busa Lake
Duration: 4 a 5 hours
2 guests minimum
Price per person: 30 USD
English speaking facilitator and private transportation provided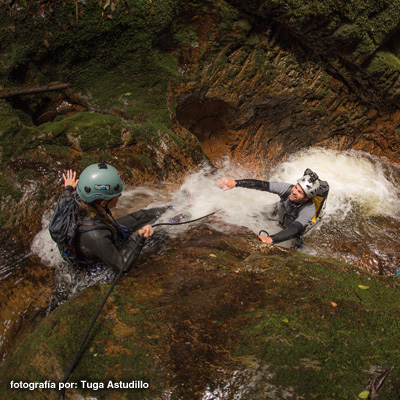 The tour takes approximately 5 to 6 hours, the journey start with a short 20 minutes ride, Northwest of Cuenca, to the east flank of Cabogana.
Then we will hike for 40 minutes with an awesome view of the city, through fields and cloud forest until we get to the gorge of Rio Amarillo.
Then we will get in to our new outfit (wetsuit, helmets, and harnesses). Business will begin!!! Sliding on natural rock carve slides, diving in to ponds, down climbing, scrambling, swimming and rappelling up to 7 different waterfalls, in the most wild and amazing scenario.
Two qualified guides will go along with the group during the journey, transportation, a light snack and equipment included in the rate. 85 usd per person, minimum two persons
What you get:
Collective and individual protection gear, two professional guides
Transportation, Tea, snack.
Departure: 9:00 am
Return: 2:00 pm
What to bring:
Light and confortable outfit to get wet
Confortable hiking shoes
A 20 lt. capacity or bigger backpack.
A set of dry clothes.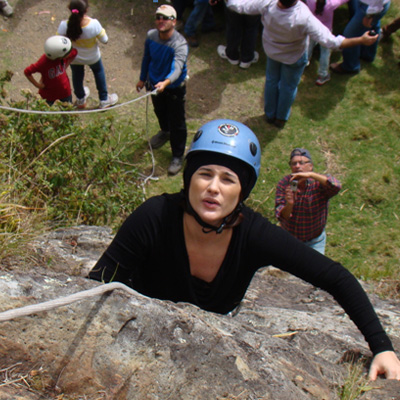 Cojitambo, is a prominent mountain, located at 40 minutes drive northwest of Cuenca city. This volcanic formed mountain was a sacred ceremonial place in Cañaris and Incas time.
It has an amazing 360° view from its summit, some off of the beaten track ruins from their former dwellers. And now days is the best rock climbing area all over Ecuador. With almost 200 routes of all different levels, up to 200 meters long.
Don't panic , our tour will take us driving to the west face of Cojitambo, where 20 routes , have been specially developed for beginners from 25 to 60 meters from 5.5 to 5.10 b on American grading
Departure: 9:00 am
Return: 5 pm
Price per person: 60 USD, minimum 2 persons
Special prices per group
Tour includes: Box lunch (sandwich, fruit, refreshment, and snack) guide, transportation and gear.
What to bring: Hiking outfit, rain jacket, sun screen, sun glasses.